A pioneering work of Moroccan women's cinema, A Door to the Sky (Bab Al-Sama Maftuh, 1988) by Farida Benlyazid is a powerful feminist tale of Islamic spiritual awakening and the interplay of cultural heritage and modern identity. The Block Museum of Art screened the film in October 2022, in conjunction with its presentation of the exhibition Taking Shape: Abstraction from the Arab World, 1950s – 1980s. Benlyazid, a renowned Moroccan filmmaker, generously recorded this Q&A in October 2022 to accompany the Block Museum's screening.
---
Watch the Interview
---
Farida Benlyazid (b. 1948, Tangier) has contributed to Moroccan cinema in a variety of roles as a scriptwriter, director of fiction and nonfiction, and producer from the 1970s to today. A Door to the Sky is a remarkable first feature film by Benlyazid, notable in its ability to create a complex environment for questioning cultural identity while exploring the intersection of feminism and Muslim spirituality from a transnational perspective.
When Nadia, a young Franco-Moroccan woman, returns to Fez to see her dying father after years spent living in France, she begins a journey of self-transformation. With the help of a new friend, Nadia decides to turn her family home into a zawiya, a Sufi spiritual home for women, and a site to explore collective women-centered interpretations of Islam. The sprawling house with patterned walls and enveloping geometry becomes a setting for camaraderie as well as divergence—pulsing with practices of daily life, singing, dancing, and dialogue among Moroccan women of varied backgrounds and experiences.
Despite the film's clear significance to a history of Moroccan (and indeed Arab and African) cinema, for the longest time no copy of A Door to the Sky was available in English, with only a poor quality version (subtitled in French) in the archive of the Bibliothèque National (BNF) in Paris. No copy is was available in any format for distribution in Morocco. In 2020 the Transnational Moroccan Cinema project announced that A Door to the Sky is now stunningly restored, subtitled in English and French again, and digitised. [Learn more about the restoration]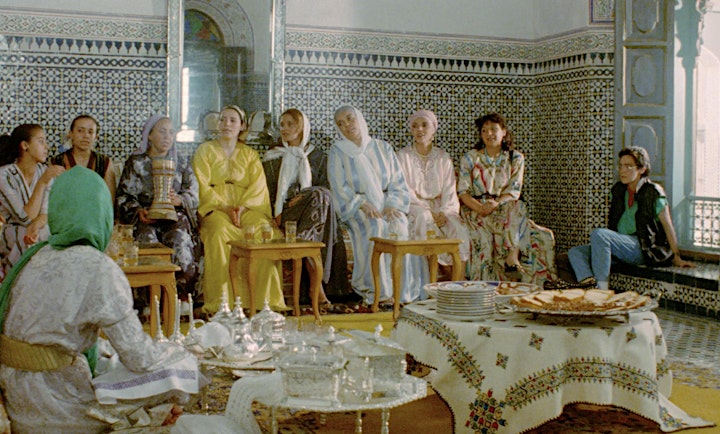 Still from A Door to the Sky (1988)
The Block Museum presented this new filmmaker interview and restored video with support from the Villa Albertine Chicago, Cultural Service of the French Embassy in Chicago, and the Middle East and North African Studies Program at Northwestern University. Special thanks to Farida Benlyazid, Dr. Florence Martin, Professor William Higbee, and Fayçal Maanan for their support of this event, as well as Africa in Motion Film Festival and the Transnational Moroccan Cinema Project from the University of Exeter for the digital restoration.
Still from A Door to the Sky (1988)